Event Information
WEBINAR- Profit Planning And Cost Accounting For Law Firms
October 07, 2020
12:00 PM - 1:00 PM
Zoom Invitation In Confirmation Email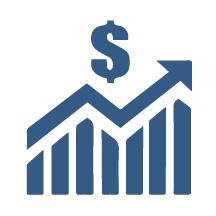 FM
Most law firms do not believe that cost accounting applies to them, that it applies only to other industries like manufacturing. However, it is crucial for all law firms to implement a cost accounting system to understand their own business. How can you tell if a client, producer, division or office is profitable? Cost accounting can provide you with the answers to those questions. Many law firms face the same challenges when making management decisions, such as allocating overhead and establishing billing rates. These challenges can be overcome by understanding the costs associated with each producer. After understanding your firm's costs, all law firms should establish a profit plan. In this workshop, you'll get a hands-on learning experience that will teach you the fundamentals of understanding cost accounting as it relates to law firms. You'll also learn the practical steps it takes to create a profit plan that works toward your firm's revenue goals.
Objectives:
•Illustrate how to implement a cost accounting system.
•Show how to establish cost-per-hour for each producer.
•Identify profitability by producer, client, division and office.
•Examine how to establish a profit plan for a law firm.
Other Information:
•CLM App Management Category -FS: Financial Management
Speaker Info:
Samuel J. Catanese is a Certified Public Accountant (CPA) and holds the position of Leading Partner of Catanese Group, PC. He focuses primarily on business planning and development, tax planning, financial and estate planning, and management consulting for closely held businesses, family-owned businesses, and individuals. Catanese serves as an adviser to a wide variety of companies in the health care, retail, real estate, construction and professional service industries as well as not-for-profit organizations. He is an expert in the areas of mergers, acquisitions, corporate financial plans, business valuations and sales of businesses.
---
Tickets
$0.00 Member Registration
$0.00 Guest
$0.00 Guest